The American Lung Association (ALA) chose Ringorang as its digital engagement platform for their virtual fundraiser: Champions Unite, which took place earlier this year. For the event, ALA partnered with stars from California's Major League Baseball teams to get the word out about lung health and drive donors to contribute to the cause. Those who engaged in the Champions Unite app, powered by Ringorang, donated more than $400 per person on average.
As part of the fun, the Champions Unite app invited members to test their baseball knowledge while learning about ALA's initiatives on lung health, using Ringorang's patented play pattern and proprietary methodology. Users were able to donate directly to ALA through the app and receive prizes for playing. They were also eligible to enter a sweepstakes through gameplay. Prizes and sweepstakes are key components of Ringorang's incentive methodology that results in behavior change.
During the five-week program, ALA delivered 39 questions and 69 flash messages for a total of 108 touch points. In total, the Champions Unite app resulted in 21 donors who contributed more than $400 per person on average. The organization is now discussing where it can expand the use of their branded version of the Ringorang app across other regions and events.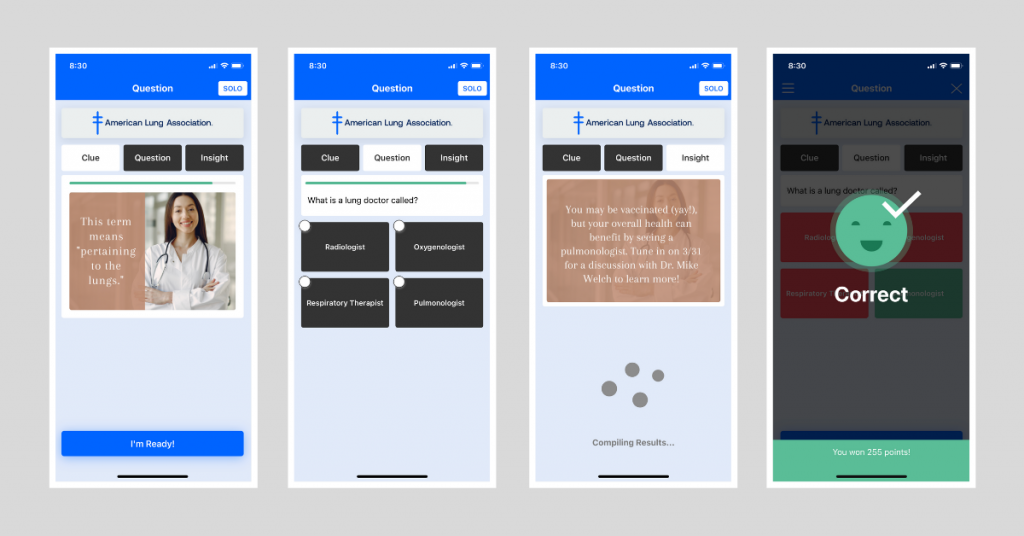 Using Ringorang for donor engagement and fundraising is one of the many cases in which the app and its methodology can achieve results for an organization, including through:
Delivering education to the community, and then collect data on the community's learning and retention
Driving activity between fundraisers throughout the year
Engaging members (donors, staff, volunteers, etc.) before, during and after a fundraiser
Training staff and volunteers
This demonstrates that not just Fortune 1000 enterprise companies benefit from Ringorang, but nonprofits do, too.